Learning Environment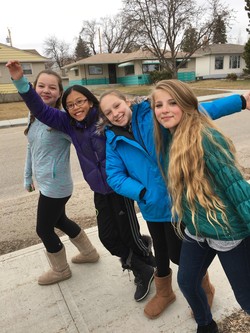 Welcoming, Safe, Caring, and Respectful Learning Environment
Background
Suzuki Charter School (SCS) students and staff are to model and reinforce socially responsible and respectful behaviours so that teaching and learning can take place in a safe and caring environment. Our goal is to develop responsible, caring, and respectful members of a just, peaceful, and democratic society. Promoting a safe and caring school requires the support and assistance of all members of the school community.
Discipline is an essential part of a positive school climate. A positive school climate contributes to the prevention and reduction of misbehaviours in school. The Principal, teachers, and staff, under the direction of the Principal, are to maintain order and discipline in the school, on school grounds and during activities sponsored or approved by SCS. School staff members need to operate in a loco parentis role whereby they act in relation to students as responsible caring parents. As well, in exercising their authority under the School Act, staff must always consider the best educational interests and fundamental rights of all students.
Student Behavior and Conduct
Student Behavior and Conduct
Background
The Board recognizes the Alberta Human Rights Act (AHRA) which prohibits discrimination on the basis of an individual's race, colour, ancestry, place of origin, religious beliefs, gender (including pregnancy, seual harassment, and gender identity), physical disability, mental disability, marital status, family status, source of income, or sexual orientation.  Discrimination on any of the prohibited grounds in section 4 of the AHRA is unacceptable behaviour. The Board believes staff play a central role in creating environments which acknowledge and promote understanding, respect and recognition of the diversity of students and families within the school community. As students learn by example, all members of the school community are expected to model respectful conduct, inclusive behaviour and an understanding and appreciation of diversity.
Procedures:
1. Acceptable student behaviours:
1.1 Respect yourself and the rights of others in the school
1.2 Make sure your conduct contributes to a welcoming, caring, respectful and safe learning environment in the school that respects the diversity and fosters a sense of belonging of others in your school.
1.3 Refrain from, report and refuse to tolerate bullying or bullying behaviour, even if it happens outside of the school or school hours or electronically.
1.4 Inform an adult you trust in a timely manner of incidents of bullying, harassment, intimidation or other safety concerns in the school.
1.5 Act in ways that honours and appropriately represents you and your school.
1.6 Attend school regularly and punctually.
1.7 Be ready to learn, actively engage in, and diligently pursue your education.
1.8 Know and comply with the rules of your school.
1.9 Cooperate with all school staff.
1.10 Be accountable for your behaviour to your teachers and other school staff.
1.11 Contribute positively to your school and your community.
2. Unacceptable behaviours that students will be held accountable for conduct that occurs outside of the school building or school day and electronically (social media), if the conduct negatively affects a member of the school or interferes with the school environment may include:
2.1 Behaviours that interfere with the learning of others and/or the school environment or that create unsafe conditions.
2.2 Acts of bullying, harassment, or intimidation.
2.3 Physical violence.
2.4 Retribution against any person in the school who has intervened to prevent or report bullying or any other incident or safety concern.
2.5 Illegal activity.
3.  Consequences and support will be determined by the school staff to take into consideration the specific circumstances of the situation and of the student when determining appropriate consequences.  Support will be provided to students impacted by inappropriate behaviour and to those students who engage in inappropriate behaviour.